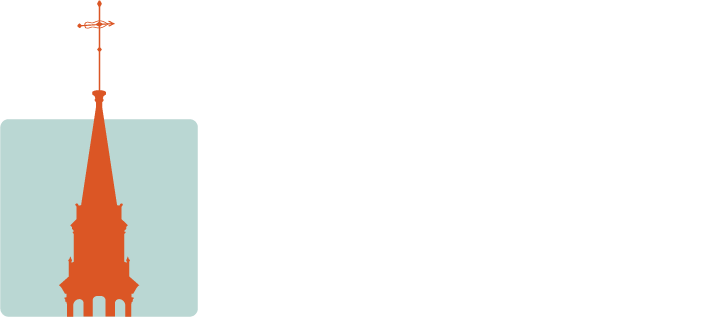 An Open & Affirming, Green Congregation
of the United Church of Christ
111 Church Drive Cheshire, CT | Sundays @ 10am
Our Ministries
Live Stream
Sunday Services
In-person and live-streamed services every Sunday at 10AM.
Watch Our Most Recent and Past Worship Services on YouTube. 
About Us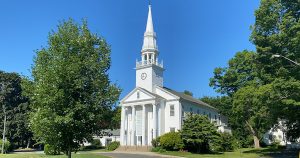 The First Congregational Church of Cheshire is a large, forward-thinking Christian congregation founded in 1724 and housed in a building on the National Register of Historic Places. The congregation is committed to welcoming and supporting people of all ages, colors, and abilities whatever their sexual orientation, gender identity, and expression. Additionally, the congregation is a "Green Church" dedicated to being good stewards of Creation. First Congregational Church is a member congregation of the United Church of Christ.
Our Vision
First Church is a welcoming, vibrant congregation
seeking to deepen our faith and follow Jesus's example in pursuing justice and caring for each other, the community, and God's world.
In-person or Online
Don't worry if you didn't make it to church this Sunday. Watch all past worship services on YouTube.
Visiting
Right in the heart of Cheshire, CT, we are located across from town hall at 111 Church Dr. along Route 10.
Have Kids?
We have numerous opportunities for children including church school, family fun events, service projects, and youth groups.
All are Welcome
We believe that all people are created in God's image and we welcome all who seek to follow Jesus, no matter what your gender, race, national origin, faith background, sexual orientation, or gender identity may be.
Service Times
We offer in-person and live-streamed services every Sunday at 10 AM
December 2, 2023

Christmas Fair

December 2, 2023 9:00 am - 2:00 pm


Gift basket raffle, cookie walk, handcrafted items, poinsettias, boxwood trees, chocolates, jewelry, Granny's Attic, Kids Activities.  Lunch and our signature corn chowder and of course Santa will be here!  

Help us spread our usual hospitality and Christmas joy to the community!
Full Church Calendar
Hover/Tap on an event to see more details.
November

2023

Sun
Mon
Tue
Wed
Thu
Fri
Sat

1

Al-Anon

Women's AA

Caring Crafts

Staff Meeting

Budget Meeting

Chancel Choir

• • • • • •

2

Boy Scouts Troop 92

Governance Action Team

• •

3

John Bates Funeral Service

•

5

Cheshire Food Drive

Worship - Memorial Music Sunday

Fellowship Hour hosted by Environmental Action Team

Gift for My Loved Ones

CAFE Conversations Bible Study

Youth Group - Top Chef

• • • • • •

7

Parish Care

Caring Ministry

Cub Scouts 114

Eco Action Team

• • • •

8

Al-Anon

Women's AA

Caring Crafts

Staff Meeting

Budget Meeting

• • • • •

10

Office Closed for Veteran's Day Holiday

•

11

Cheshire Veterans Council Veterans Day Ceremony

•

12

Worship

Fellowship Hour hosted by Membership

Sermon Talkback with Pastor James

Youth Group

• • • •

14

Parish Care

Cub Scouts 114

Church Council

• • •

15

Al-Anon

Women's AA

Caring Crafts

Staff Meeting

Budget Meeting

Chancel Choir

Faith Formation Ministry

Finance Ministry

• • • • • • • •

16

Boy Scouts Troop 92

Worship Ministry

• •

18

Youth Group & Stepping Stones Basket Brigade

Fall Cleanup

• •

19

Worship

Fellowship Hour hosted by Facilities

Gift for My Loved Ones: Session 2

CAFE Conversations Bible Study

Stepping Stones

• • • • •

21

Parish Care

Cub Scouts 114

Membership Ministry

• • •

22

Al-Anon

Office Closes

Women's AA

• • •

23

Office Closed for Thanksgiving Break

•

24

Office Closed for Thanksgiving Break

•

26

Worship

Fellowship Hour hosted by Youth Ministry

All Age Advent Preparation

• • •

27

Decorating Sanctuary for Advent

Girl Scouts #60302

• •

28

Decorating Sanctuary for Advent

Parish Care

Budget Meeting

Outreach Ministry

Facilities Ministry

• • • • •

29

Decorating Sanctuary for Advent

Al-Anon

Women's AA

Caring Crafts

Staff Meeting

Chancel Choir

• • • • • •